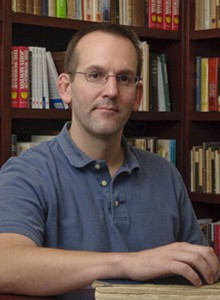 Without a doubt, one of the preachers I most look up to and learn from is Josh Moody of College Church in Wheaton, Illinois.  Josh is a humble man with an outsize résumé–BA from Cambridge, PhD from Cambridge (in none other than Jonathan Edwards), missionary to Georgia (the country, not the Dawgs) and Azerbaijan, husband to Rochelle and father of three adorable children.
If you are a looking for examples of the modern pastor-theologian, you should look directly and sustainedly at Dr. Moody's ministry.  He reminds me of Jeffrey Epstein, the "Doctor," due to the intelligence, crispness of expression, and soaring view of God found in his preaching.  College Church is a historic church (Kent Hughes formerly pastored it) and it just celebrated its 150th anniversary.  It is in the hands of a faithful expositor of God's Word, one whose preaching reminds me of the speakers and leaders one finds in such organizations as Together for the Gospel and The Gospel Coalition.  If you have not listened to Josh's sermons, do so immediately (and here's his website).  Here's what Josh says about his passion:
My passion is the gospel.  By that I don't mean the cheap, cheesy, man-centered gospel that tells you that heaven can be won with a little prayer and playing nice. I mean the full orbed, bloody, biblical, God-centered, gospel that tells you that heaven is won through what Jesus has done. When I first started preaching some years ago someone came up to me after a service and said, roughly speaking, "I've worked out what's different about this church. Other churches are telling me what I have to do. You're telling me what Jesus has done."  It's my experience that when the God-centered gospel of Jesus Christ is caught – when it is believed and embraced and internalized and loved – then lives are changed as a result. I don't want to talk about money, and duty, and how to construct outwardly pleasing lifestyles that "look" Christian.  I want to preach the gospel in the power of the Spirit so that we are no longer simply nice looking people but newly made people.
Recently, Josh authored No Other Gospel: 31 Reasons Why Justification by Faith Alone is the Only Gospel (Crossway, 2010).  The book is a collection of sermons from Galatians, and it showcases the strength of this Wheaton expatriate's ministry.  The sermons walk through the text of this weighty epistle, offering exegetical commentary, apologetics, theological connection, and application.  The book enters into recent debates over justification and gives helpful guidance on them.  For example, from a chapter on Galatians 2:15-16:
I want you to see that the works of the law don't justify, that faith in Jesus does justify, and that this justification by faith alone in Jesus is what the Bible teaches.  Psalm 143:2, which Paul quotes here, teaches that.  Genesis 15:6 teaches that, and 2 Samuel 15:4 shows the Old Testament context for the meaning of the word justify.  First Corinthians 4:4 shows the meaning of the word justify in the New Testament context, and Romans 4:6 shows that the works of the law did not justify David but rather his faith, this faith that is now fulfilled in Jesus Christ.  Jesus Christ is the one to whom the law points and of whom the law speaks, and before whom we worship and give praise that in him, because of his faithfulness, we can stand justified before the holy God, if we put our faith in him. (113)
You can see clearly that this kind of writing–and preaching–is powered by intellect.  Josh does not preach "5 Easy Tips for Biblical Time-management."  You come to his church, you read his writing, you need to buckle up.  This is exactly the kind of preaching we need.  Logic on fire, as Lloyd-Jones himself said.  Pick up No Other Gospel and learn from its insights and broader theme.
And, he's yet another Brit that we've cribbed for our American movement.  Another name to watch out for: Michael McClenahan, another Edwardsean.  The devotees of Edwards stick together, as you can see from my frequent call-outs (!).
Other important material:
Henry Center media from 2009 (preaching and interviews–great stuff)
Chat with Justin Taylor about the book