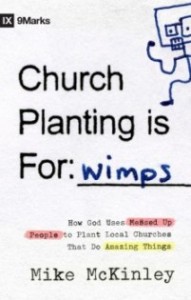 You might have heard about Mike McKinley's recent book on church planting: Church Planting Is for Wimps (Crossway, 2010).  If you haven't, it's a great read.
Mike is the senior pastor of Guilford Baptist Church in Sterling, Virginia.  In God's grace, he oversaw the revitalization of the church.  Church Planting Is for Wimps is the story of how that all happened.  Though the book is ostensibly about church planting/revitalization, it is an encouraging account of church life and Christian ministry.  I don't think you would need to be a pastor to enjoy it and profit from it.  Uplifting stories about God's work through His local church can be hard to find–particularly doctrinally savvy ones–but this text is exciting, easy-to-read, and quite funny.
My favorite section of the text involved McKinley's account of how his church, planted from Capitol Hill Baptist Church of Washington, DC, reached out to local Hispanics.  At one point, McKinley and his wife hosted a dinner for a number of folks from their diverse neighborhood.  One of them told the couple as he left the house that he had never been inside an American home except to work.  That was a stunning story, one that shows just how wide natural divides are–and how incredible the power of the gospel is.  I was deeply challenged by this and other stories from McKinley's experience.
McKinley is a punchy, clear writer.  The text reads effortlessly and clocks in at a short 128 pages.  Once in a while Mike tosses out a line that will startle some readers.  I didn't exactly understand the book's title; is McKinley ribbing church planters–arguing that revitalization is the way to go–or is the title indicating that all of us are wimps and thus need to step out in faith to do things for God?  I wasn't sure.
Church Planting for Wimps is a fun, edifying book that offers some of the best "church planting" theology I've seen.  Mike's story and his teaching will encourage, chasten, and bless you.  If church planting is for wimps, reading about church planting is for everyone.
*************
Find excerpts here, and a TGC Reviews interview with McKinley here.  He's worth listening to.  You can also hear his preaching at the church website.